I'll be attending not one but two author events this coming weekend (Saturday 5th April) at the Renfrewshire Witch Hunt 1697 Heritage & Creative Hub (located on the ground floor of the Paisley Centre).
At 11am, I'll have my novelist's hat on for an author event where I'll be reading excerpts from the book.
And in the afternoon (1.30pm), I'll be back, cunningly disguised as an archaeologist, for an illustrated lecture on the historical events which form the basis for the novel.  With a particular emphasis on Paisley, of course, which was made a burgh not long into James IV's reign, thanks to the efforts of Abbot George Schaw (of Paisley Abbey) who appears to have acquitted himself rather well during the Battle of Sauchieburn in June 1488.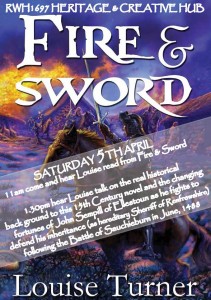 To find out more, and to enjoy some more tales (factual and fictional) of late 15th century mayhem, please come along!  Copies of Fire and Sword will be available to purchase on the day, courtesy of the RWH 1697 Hub and local Paisley bookshop, Abbey Books.
Hope to see you there!