It's been over a month since The Gryphon at Bay was launched at the Lochwinnoch Arts Festival – yes, I should have been writing this post long ago, but it's been a very busy couple of weeks with work commitments and book commitments and all sorts of things cropping up!
Launching Gryphon at the Lochwinnoch Arts Festival was wonderful – the organisers did a great job and everything ran very smoothly.  The evening kicked off with a short showcase of work from the Lochwinnoch Writers Group, after which I gave a short illustrated talk about the Sempill family and their connections with Lochwinnoch. The family resided at Castle Semple and/or Elliston castle throughout much of the medieval and post-medieval periods, so there was plenty to talk about in the 20 minutes allotted, including the siege of Castle Semple which took place in 1560, at around the time of Mary de Guise's death.
An interview and question and answer session followed, before the current Lord Sempill provided concluding remarks in which he talked both about the clan's historic links with Lochwinnoch and how these links have been re-established in recent times. As an author who writes about the Sempill family as it was 500 years ago, I find it immensely satisfying to know that the living descendant of the individuals I write about and 'know' so well takes an interest in my work, and it was certainly an honour to have Lord Sempill there to help celebrate the launch.  The current owner of Elliston castle also attended the event, which was another welcome surprise!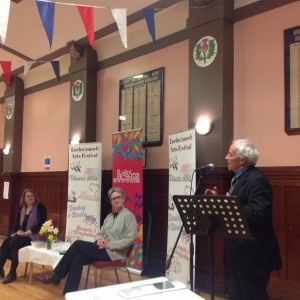 Altogether, it was a fabulous evening, and the event was very well-attended, too.  I'd like to extend my thanks to all those who turned up on the night, to the members of Lochwinnoch Writers Group who shared a variety of prose and poetry in the opening section, and – last but by no means least – to the organisers of the Festival who made it such a night to remember!