I've not long returned from the Paisley Abbey 850 Conference, and wow!  Great conference!  And a great venue, too!!
For the conference proceedings took place in the north transcept and the crossing of the abbey itself, which meant no excuses for nodding off and being bored, because when the attention wandered, there were all sorts of things to catch the eye.  Like bundled shafts, clerestory arcades, and window tracery attributed to the fabulous John Morow…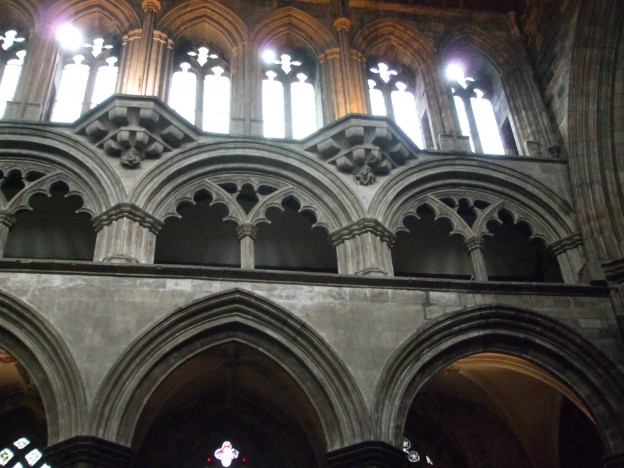 The papers proved an intriguing and diverse selection, too.  I must admit that I was biased towards the morning session, where the content was veering towards the medieval.  Gilbert Markus of the University of Glasgow kicked off the proceedings with a paper discussing how political allegiances can be tracked by mapping the cults of saints, considering in particular how the cult of St Brendan came to be associated with the Stewarts, 
Then came Professor Richard Oram of the University of Stirling, who gave an economic overview of the colonising work of the monastic community at Paisley, and how under their encouragement areas of forest and peat carseland were drained and brought into agriculture.
Followed by Alan Steel, who provided us with a detailed snapshot of the families and personalities who settled in Renfrewshire at the time the Stewarts moved up here from Shropshire.  This was especially useful for me, because it finally explained the mystery of how exactly the Montgomeries (also from Shropshire) actually came to put down roots here.  Though that, I fear, must wait for another day…
And then came Tom Addyman of Simpson and Brown Architects, Buildings Archaeologist Extraordinaire, who gave us a really detailed breakdown of the complex narrative which can be glimpsed within the fabric of the Place of Paisley (the structures now standing on the site of the conventual buildings).  Not much survives of the medieval buildings, but the 17th century structures have their own tale to tell which is well worthy of study.
Derek Alexander of the National Trust opened after lunch with a brisk inventory of medieval carved tombstones – including the spectacular effigies at Renfrew and Houston – and then David Roberts told us the story of Patrick Brewster, a 19th century minister at the Abbey who became notorious for his outspoken criticism of the povery that was rife in the town at this time.  Lastly, the Rev. Tom Davidson Kelly talked about the restoration of the abbey in the early 20th century, undertaken first by Peter Macgregor Chalmers and subsequently completed by Robert Lorimer.
A fascinating breadth of topics, and an excellent way to spend the day!  These conferences are becoming regular fixtures in Paisley, and they're always a delight to attend.   So here's to the next one, which may take place as soon as 2014!