Linlithgow was created a Royal Burgh in 1198, one of a number of planned burghs established towards the end of the 12th century. Each was laid out in similar fashion: there was usually a single street, which widened at its heart into a broad market place. This housed the burgh's tollbooth, its mercat cross and its weighing machine or 'tron.' Each of the individual properties leased or sold within the burgh was laid out in a strip, with a narrow building fronting the street, and a long strip of 'backland' stretching out to the rear.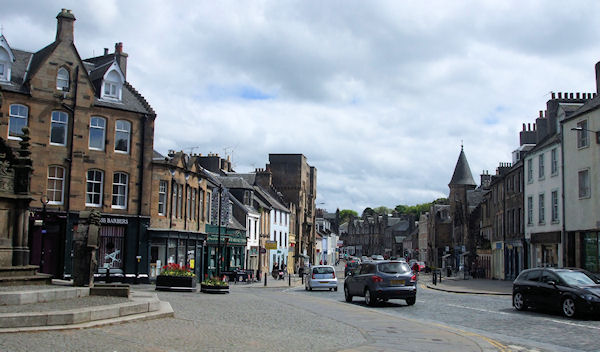 Fragments of early buildings still survive in Linlithgow, with earlier fabric often incorporated into later structures, but the character of the town itself is dominated by architecture of 18th or 19th century date. But one or two earlier structures of 16th century date still survive in a town where the layout of the medieval street plan can still be identified.
For further information on the burgh, the following links are helpful.
http://www.linlithgow.com/heritage.htm
http://canmore.rcahms.gov.uk/en/site/49239/details/linlithgow+general/
Or if you can get hold of them, you could refer to the burgh surveys. Two generations of this publication have been created through the years:
Dennison, E P and Coleman, R 2000. Historic Linlithgow: the Architectural Implications of Development (Scottish Burgh Survey, Edinburgh)
Gallagher, D B, 1993. Historic Linlithgow: the Archaeological Implications of Development (Scottish Burgh Surveys, Edinbugh)
Two buildings best encapsulate the spirit of late medieval Linlithgow: Linlithgow Palace, and St Michael's Parish Church. Not only are they the burgh's earliest surviving structures, they are also, arguably, its most spectacular.
Linlithgow Palace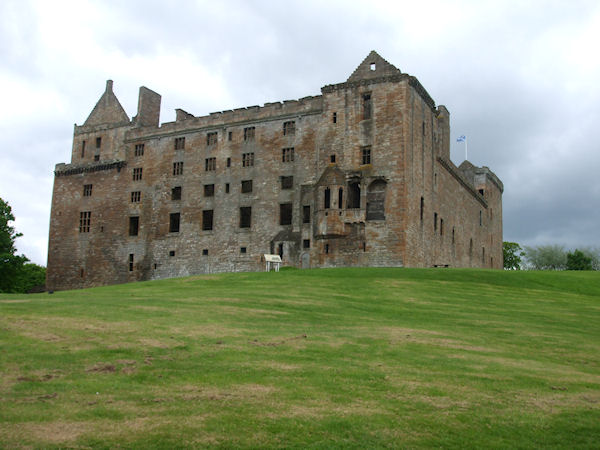 Linlithgow Palace was well known to King James IV and it seems to have been a place close to his heart, as he invested a great deal of time, money and energy into transforming the palace into somewhere more appropriate for a king inspired by Renaissance ideals. James IV's work is woven into a complex structure which was subject to frequent remodeling from the early 15th century right through the late 16th. His particular contribution was the imposing gatehouse in the centre of the east range, and also the west range, with its magnificent presence chamber.
Sadly, Linlithgow Palace has not fared well through the centuries. But although the surviving remnants of the palace are just a faint and forlorn echo of the glorious structure that James IV knew and loved, it is still a magnificent building, and well worth a thorough exploration. As a Guardianship Monument in the Care of the First Minister of Scotland, it is open to the public.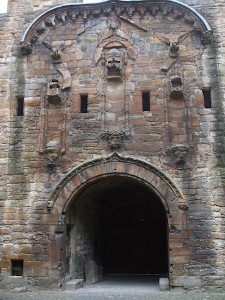 Weblinks
http://canmore.rcahms.gov.uk/en/site/49261/details/linlithgow+linlithgow+palace/
http://www.historic-scotland.gov.uk/propertyresults/propertyabout.htm?PropID=PL_199&PropName=Linlithgow Palace
St Michael's Parish Church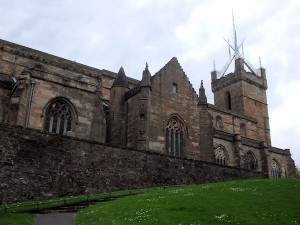 St Michael's Parish Church occupies the site of an earlier church structure first dedicated in 1242, but this was subsequently burnt down in 1424. Rebuilding started soon after this date and continued on into the 1530s. Originally the tower was surmounted by a magnificent crown steeple, but this was removed in the early 19th century due to fears that it was unsafe. In the 1960s, a modern re-interpretation of the crown steeple was added in the form of a timber crown, covered with anodised aluminium.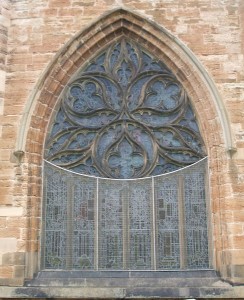 The window tracery of the church is particularly elegant, and there are one or two original pieces of sculpture still surviving both inside and outside the church, including a well-preserved fragment of sculpture from an altar retable or similar furnishing which was reportedly excavated during restoration works on the church, presumably carried out in the 19th century.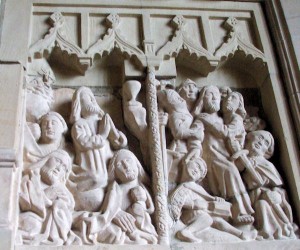 Weblinks
http://www.stmichaelsparish.org.uk/
http://canmore.rcahms.gov.uk/en/site/49181/details/linlithgow+st+michael+s+church/
Further Reading
Fawcett, R 2011 The Architecture of the Scottish Medieval Church 1100-1560 Yale University Press
Macgibbon D & Ross T 1896-7 The Ecclesiastical Architecture of Scotland Vols 1-3 (Douglas, Edinburgh)