Unlike most of the Scots burghs featured in Fire and Sword, Paisley was a bit of a Johnny-come-lately. Its origins are early: it's likely that a settlement would have sprung up around the abbey within a short time of its move to Paisley in 1169. But for several centuries, the material needs of this settlement were administered by Renfrew, whose burgh officials would have profited from any trade carried out here or any fines imposed on burgesses and visitors alike.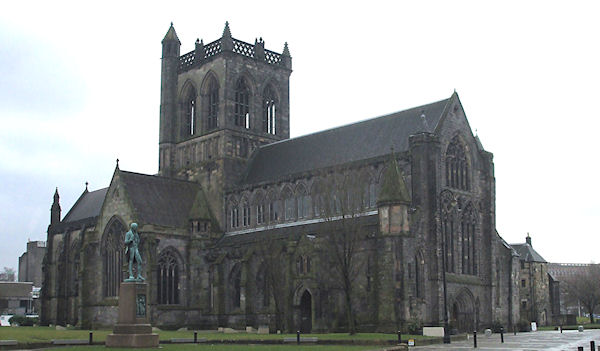 Abbot George Schaw clearly realised that the abbey was losing out to Renfrew financially because of this long-term relationship, and the unrest of 1488 allowed him to gain ground at Renfrew's expense. It wasn't long after James IV succeeded to the throne that Paisley was made a burgh of barony. The transition wasn't a smooth one – Renfrew didn't take this insult lying down. But that, as they say, is another story!
These days, Paisley is best known for its textiles. The town found great prosperity in the 19th and 20th centuries on account of its textile manufacture: even now, one of the most popular designs produced in the Paisley mills is known as 'Paisley pattern'.
Like many successful burghs and towns in Scotland, Paisley's success as an industrial centre has had an enormous impact on its built heritage. Most of its early buildings have been removed in town 'improvements' which started in the 19th century and which were still taking place in the 1960s and 70s. There are some odd little remnants of a historic past surviving – there's a 19th century building in the High Street which has a carved stone of medieval date, bearing the Sempill coat-of-arms, in its gable. And there is, of course, the Abbey of Paisley, which will be discussed in greater detail shortly.
Further Reading
Gallagher, D B 1993 Historic Paisley: the Archaeological Implications of Development Scottish Burgh Surveys (Edinburgh)
Weblinks
http://canmore.rcahms.gov.uk/en/site/43175/details/paisley+general/
[And, for cartographic adventures the like of which you'll never have experienced before, click here!  ]
Paisley Abbey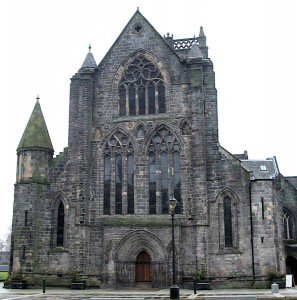 The Abbey of Paisley began its life as a Cluniac priory located in Renfrew. Founded in the early 1160s, it had moved to its final location in Paisley by 1169 before becoming an abbey in 1219. The building's fabric reflects its longevity, featuring elements which have been dated to the 12th, 13th and 15th century respectively. While abbey churches were invariably subject to rebuilding, Paisley's programme of repair and reconstruction may reflect the fact that it was burnt by an invading English army in 1307. Unfortunately, the Scots also showed scant respect for its architecture in later times: a band of Reformers burnt the church in 1581.
The abbey always had strong connections with the Royal House of Stewart. Marjory Bruce (eldest daughter of Robert the Bruce and mother of King Robert II, the first of the Stewart dynasty) is buried there – while heavily pregnant, she was riding near Renfrew when she fell from her horse. She was taken to Paisley Abbey where she went into premature labour. Her son was safely delivered, but Marjorie died from her injuries soon afterwards.
James IV also had strong connections with Paisley Abbey. Abbot George Schaw was one of the tutors who had responsibility for educating the young James IV, and he appears to have been a personal friend, as well as a religious confidante, too.
Over the last few decades, Paisley Abbey has been the subject of some very exciting archaeological work which has involved an exploration of the medieval sewer that ran from the conventual buildings to the nearby river. All sorts of exciting finds were recovered from the silted up drain, including the earliest known polyphonic music in Scotland. It was also one of the first archaeological projects that I worked on as a professional archaeologist, which means it's a source of particular personal resonance to me.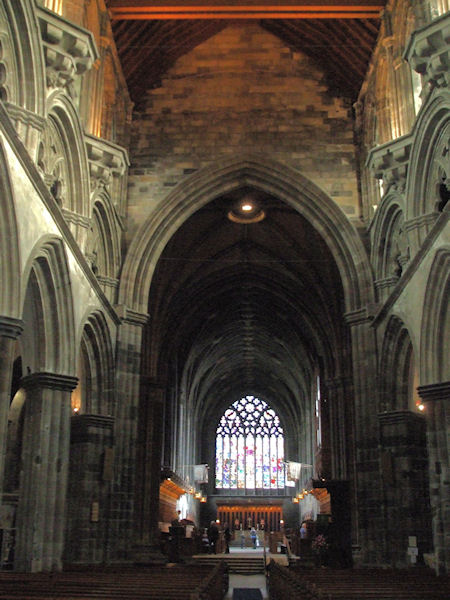 Further Reading
MacGibbon & Ross, D & T, 1896-7 The Ecclesiastical Architecture of Scotland From the Earliest Christian Times to the Seventeenth Century, 3 vols. (Edinburgh)
Malden, J, 1995 The Cluniac Monastery of Paisley: A Preliminary Investigation Proceedings of the Society of Antiquaries of Scotland Vol. 125 pp. 1193-4
Stevenson, J B, 1995 Glasgow, Clydeside and Stirling Exploring Scotland's Heritage Series (Edinburgh)
Weblinks
http://canmore.rcahms.gov.uk/en/site/43139/details/paisley+abbey/