The origins of Stirling's burgh status are obscure: described as a Royal burgh in charters dating to the reign of King David I, it seems likely that, like Linlithgow, it is yet another of the planned burghs created by David.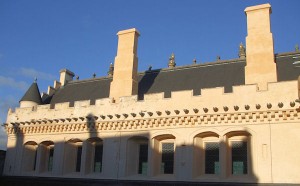 But its origins as a settlement probably go back much earlier, with occupation at Stirling Castle thought to date back as far as the Iron Age. Stirling's central location made it vital as a strategic military objective, so it's small wonder that it has been the site of several key battles in Scotland's history. The best known are those in the Scots Wars of Independence, namely the Battle of Stirling Bridge and the Battle of Bannockburn.
The Battle of Sauchieburn, featured in Fire and Sword, is much less prominent in Scottish history, but the fact that it covered much of the same ground as Bannockburn illustrates how, over a hundred and fifty years later, the possession of Stirling was still seen as crucial to military success.
Stirling is a picturesque town with a number of old buildings surviving at its core. The town is dominated visually by Stirling Castle, which has seen a long history of military use but which still retains many of its late medieval elements. Located near the castle is the Church of the Holy Rude which dates back to the early 15th century, and a number of venerable buildings still survive in the Old Town, some dating back to the 16th or 17th century.
Old Stirling Bridge is another historic structure which is well worth a visit, though it should be noted that this particular bridge is not the one which played such a crucial role in William Wallace's epic defeat of Edward I's knights in 1297. Dating to the mid 1550s, Old Stirling Bridge replaced a medieval predecessor: traces of this earlier structure have recently been identified during archaeological survey works carried out nearby along the banks of the river Forth.
Further Reading
Gallagher, D B 1994 Historic Stirling: the Archaeological Implications of Development Scottish Burgh Survey Series (Edinburgh)
Gourlay, R and Turner, A 1978 Historic Stirling: the Archaeological Implications of Development Scottish Burgh Survey Series (Glasgow)
Stevenson, J B 1995 Glasgow, Clydeside and Stirling Exploring Scotland's Heritage Series (Edinburgh)
Weblinks
http://canmore.rcahms.gov.uk/en/site/46174/details/stirling+general/
http://www.visitstirling.org/FeatureListLowerItineraryMap.aspx?docid=3&nav1=3
Stirling Castle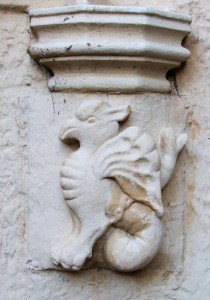 Stirling Castle has seen a long history of use: though it fell out of favour as a Royal residence during the reign of James VI (James I of England & Wales) when court and king moved south to London, it was retained for use as a military garrison and there was a working barracks on the site
until the late 20th century. Following its abandonment by the military, efforts were made to remove many of the changes made by the Hanoverian government in the early 18th century and to restore the site into something which better resembles the Renaissance palace created during the reigns of James IV and his successor James V.
Elements of the Royal residence built by James IV still survive, in particular the Forework, which forms the entrance to the Inner Ward, and the Great Hall, which sits within the Inner Ward amongst a group of late medieval and Renaissance buildings. The Great Hall has recently been subject to a major renovation which has caused some controversy: in their efforts to faithfully restore it, Historic Scotland have coated the exterior with lime harling, a traditional method which would have been in routine use during the reign of James IV .

The hall's colourful appearance has caused alarm and dismay amongst those purists who prefer their historic buildings to be drab, austere and traditional, but my own personal view is much more positive. 'James IV and the Giant Peach' it may be, but… Look up at the castle from the flood plains below and you'll see the Great Hall shining out like a beacon – it's exactly how James IV would have wanted it, and that's definitely good enough for me!
Further reading
Fawcett, R (ed.) 2001. Stirling Castle: The Restoration of the Great Hall (York)
Weblinks
http://canmore.rcahms.gov.uk/en/site/46245/details/stirling+castle/
http://www.historic-scotland.gov.uk/propertyresults/propertyoverview.htm?PropID=PL_275